There is a strict hose reel requirement in Malaysia for all premises that need a fire hose reel system. In the case of a fire outbreak, an accessible and reliable hose reel system is pertinent in preventing the fire from spreading further into the building.
To ensure a building's safety, every building owner must not take matters relating to hose reel requirements for granted. Continue reading to learn the hose reel requirement in Malaysia and how to stay compliant with local fire safety laws.
What is a Fire Hose Reel?
Similar to a fire alarm, a fire sprinkler, and a fire hydrant, a fire hose reel is a vital component of the fire protection system. Designed for general public use, hose reels are the first line of defence and serve as a fast response for suppressing early-stage fires. Hose reels are effective against Class A fires, including wood, paper, textiles, rubber, and most plastics.
Fire hose reel systems consist of a set of pumps, pipelines, water supply, and hose reels that are strategically placed to guarantee ample water supply and control flames. Offering more coverage, the efficacy of hose reels in minimising fire damage is greater than fire extinguishers or fire blankets, hence why they have become a mandated safety feature.
Read More: Fire Hazard Awareness in Malaysia
Hose Reel Requirement for Buildings
To check if your premise requires a fire hose reel, refer to the Uniform Building By-Laws (UBBL) under the Tenth Schedule Table of Requirements for Fire Extinguishment Alarm Systems and Emergency Lighting.
Simply refer to the second column, and if the letter 'G' is present, your building requires a fire hose reel system. Now that you know whether or not your premise requires a fire hose reel system, it is critical to take note of certain hose reel system specifications.
Below is a general outline of the Tenth Schedule Table of Fire Extinguishment Alarm Systems and Emergency Lighting. Requirements also depend on the number of storeys and building area (square metres).
Building Requirement
Type of Building
Institutional
– Building used for instructional purposes
– Canteen or detached kitchen
– Laboratory or workshop
– Library
– Multi-purpose hall
– Central air-conditioning
– Hospital or nursing home
Other residential
– Hotel
– Hostel or dormitory
– Apartment or flat
– Service apartment
Office
– Office building
Shop
– Hawker centre, food court, wet market, or dry market
Factory
– Sawmill
– Steel mill
– Palm oil refinery
Place of assembly
– Convention centre, community centre, private club, exhibition centre, museum, or art gallery
– Theatre, cinema, concert hall or auditorium
– Amusement Park or theme park
– Bus terminal, ferry terminal, train station or airport
Storage and general
– Car park
– Warehouse
Hose Reel Design Requirement
A hose reel is tremendously competent in putting out fires. The hose is made of rubber and is typically 30 meters long and 25 millimetres wide. The nozzle can be adjusted to spray different sizes of water, but 8 millimetres is recommended.
Meanwhile, the pipes that supply water to the hose reel must be at least 25 millimetres wide. They should be made of strong metal to deliver added durability and painted red to enhance visibility.
A fire hose reel's unique system generally comprises a nozzle, a mounting bracket, and a ball valve shut-off device. In a fire fighting scenario, water is directed and controlled using the nozzle at the end of the fire hose.
Hose Reel Pump & Tank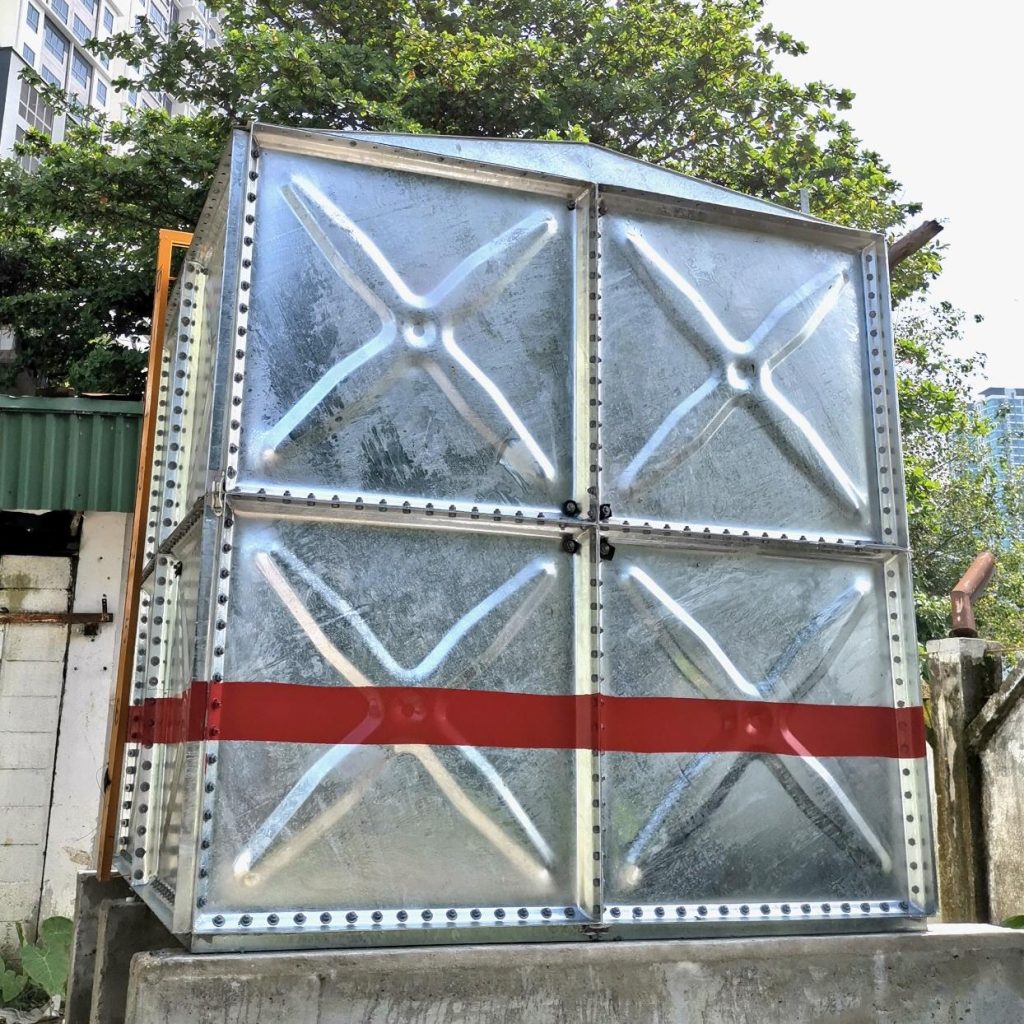 Local safety laws require two hose reel pumps, one on duty while the other (powered by an emergency generator or genset) on standby. Each hose reel outlet should dispense a minimum of 30 l/min of water within 6 metres of protected space.
The design guideline are such that four hose reels are operating simultaneously, the pump are required to deliver a flow capacity of 120 l/min with a running pressure of no less than 2 bars.
The tank should be able to hold 2,275 litres of water for the first hose reel, with an additional 1,137.5 litres for each additional hose reel. Overall, the tank must have a maximum capacity of 9,100 litres.
The tank's exterior should be painted red or with a red band of no less than 20 cm to indicate that it is a fire tank. It must also be made of fibreglass reinforced polyester or concrete.
Plus, a water level indicator should also come compartmented with the tank to display the tank's water level.
Hose Reel Placement & Storage
In compliance with M.S. 1447, hose reels are usually installed 30 metres from each other. A hose reel should also be provided for every 800 m2 of usable floor space.
It should be placed in prominent positions along the fire escape route (e.g. stairway), for easy access during fire emergencies.
Store the hose reel for mobility in either a wall-mounted casing or freestanding equipment, though prioritise a recessed closet when available.
Read More: The Importance of An Effective Fire System Maintenance
Hose Reel Maintenance
It is imperative that you maintain your hose reel system regularly to ensure that it is always ready for use and can act effectively.
A fire specialist should maintain your fire hose reel at least once a year and conduct a follow-up observation after a fire.
Depending on the specific type of fire hose reel system, your hose reel may require more frequent maintenance. Thus, it is important to consult a fire safety specialist for expert guidance.
Fire Hose Reel Awareness & Education
Fire hose reel systems should be installed so the building occupants can easily see and access them when needed. Also, it is the responsibility of a building owner to educate your occupants on the proper use of a hose reel system, such as how to:
Turn on the water supply
First, an individual should pull out the hose reel drum. Following that is to open the control valve.

Use the Hose Reel
Roll out the hose reel to an appropriate length and move the nozzle into an 'open' position. This will allow the flow of water.

Aim Water Flow for Effective Suppression
The goal is to reach the fire from a safe distance. Always aim the water stream at the base of a fire.

Read More: Workplace Safety: A Shared Responsibility in Malaysia
Penalties for Non-Compliance
As a mandated safety aspect, non-compliance involving your fire hose reel system will result in serious consequences. One major disadvantage to non-compliance is the inability to obtain a Fire Certificate from BOMBA (Fire and Rescue Department).
Obtaining a Fire Certificate shows that your building is in line with local fire safety laws, ensuring that all fire safety systems ready to act in the case of a fire outbreak.
If a designated premise does not obtain this certificate, they have to pay a fine of up to RM50,000, face up to 5 years of imprisonment, or both. And for each additional day of not possessing a Fire Certificate, a further penalty of RM100 is charged.
Not only is non-compliance a liability to your building, but it is also a danger to all occupants. Faulty fire safety equipment will not be reliable in combating fire, and the lack of this crucial tool is a great hazard to your occupants. To ease your concerns, our fire safety experts can guide you through your Fire Certificate application and renewal.
Palcon: Keeping You Safe & Compliant
Keeping up with the hose reel requirement in Malaysia can be daunting, which is why Palcon's hose reel system is built with all the local safety requirements in mind. We offer both manual and automatic hose reel systems, keeping you well-prepared during fire emergencies.
Our hose reels are designed to be reliable, accessible, and with great extinguishing power to enable action from a safe distance. Maintain the safety of your premises and people with our trusted fire safety solutions. Reach out to us and find the best equipment for your fire protection needs.