A fire pump is a critical component of any fire sprinkler and hose reel system that has certain requirements to fulfil in order to stay compliant with local safety laws.
Various premises must have some form of fire safeguarding, and it is important to take note of the necessary specifications of your fire pump, and the purpose each type serves.
Continue reading the article to explore the different types of fire pumps and how they combat fires.
What is a Fire Pump?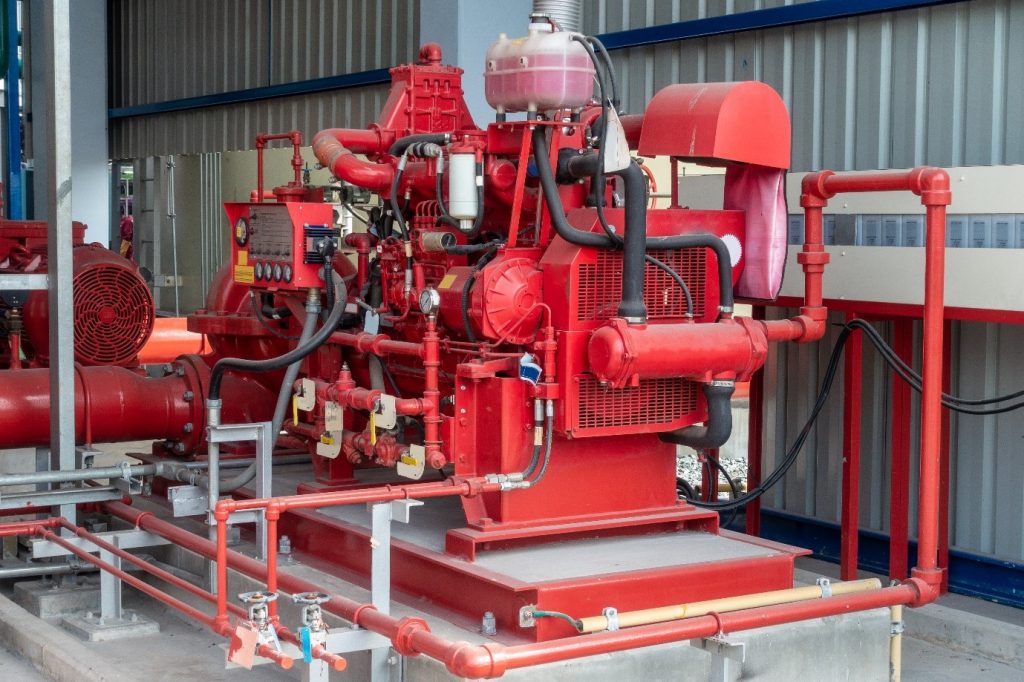 Fire pumps play a critical role in ensuring the safety of building occupants in the event of a fire. They provide a steady and reliable water supply to a building's fire protection systems, including sprinkler and standpipe systems.
Fire pumps also boost the pressure and flow of water from the fire water tank supply to ensure firefighting systems can effectively extinguish the fire.
Depending on the fire protection system, a fire pump may deliver water at a particular pressure point to a hose reel or channel water from a source and distribute it through the fire sprinklers installed.
Typically, fire pumps are powered by electricity or diesel engines and are housed in a separate pump room in the building. They are highly reliable and should be regularly tested and maintained for optimal performance in the event of a fire.
Understanding the different types of fire pumps and their uses is essential for maintaining a comprehensive fire safety plan.
Read More: Workplace Safety: A Shared Responsibility in Malaysia
Types of Fire Pumps
There are four main types of fire pumps, namely the horizontal split case, vertical turbine, vertical in-line, and vertical split-case fire pumps. Below is essential information on each type of fire pump:
Horizontal Split Case Fire Pump
Centrifugal horizontal split case pumps are the most common type of fire pump and require an extended water supply unattached to the system.
Despite that, it is popular for being a long-lasting piece of equipment that can last for years whilst delivering water reliably throughout its lifespan.
Aside from that, it is highly customisable and replaceable, as the individual parts of this pump vary in size. Its durability, flexibility and simplicity makes it popular for industrial, fire-fighting, power station, manufacturing and marine use. 
Vertical Split Case Fire Pump
Similar to the horizontal version, vertical split case fire pumps mainly differ in terms of occupying less space.
It is a good option for businesses operating in smaller premises, and its design also shields its motor from flooding.
Vertical Turbine Fire Pump
This pump system is the only type that starts with a negative suction pressure or channel water where suction lifts are required from below-ground water supplies, such as rivers or subgrade tanks.
Vertical turbine pumps are approved for use with natural water sources, including rivers, ponds and lakes. It is also adaptable to various capacities and pressures and can be used with either electric or diesel drivers.
Vertical In-Line Fire Pump
Featuring a compact design, the vertical in-line fire pump is an ideal choice for smaller premises or spaces.
While these pumps are typically inexpensive to install, they come with significant repair costs. Furthermore, maintaining the pump is burdensome because accessing the pump requires dismantling the motor, unlike a split-case unit.
Also, an electric motor drives the vertical in-line fire pump, which limits its applications.
Jockey Pump
Also known as a pressure-maintenance pump, this equipment works in tandem with fire pumps as part of a sprinkler system.
 
Its role is to keep the pressure elevated at a specific level while the system is idle and can prevent damage to the pipes from water pressure.
Read More: The Importance of An Effective Fire System Maintenance
Install Your Fire Protection Seamlessly with Palcon
As a reliable fire protection service provider in Malaysia, Palcon's solutions deliver effective fire safety systems and equipment while staying compliant with local safety laws.
We offer a variety of fire safety solutions, such as fire alarm and fire suppression systems, alongside a skilled fire safety team for all your maintenance and installation needs.
Contact us today to safeguard your premises!